Web Forms
Web forms allow page visitors to enter their data input and send it to the form owner. Basically it's the user's first interaction with your business, making it crucial to setting up future conversations.
Create a form
With 123FormBuilder, you are in charge.
With 123FormBuilder, you can create any type of web form, starting from basic contact forms to complex order forms and registration forms without coding skills to drive interaction with you visitors and reach business objectives faster.

Need a way to engage with your website visitors?
Control of every aspect of the online form
Web forms require extensive knowledge of programming languages in order to create them, such as HTML for structure, CSS for styling, JavaScript code & jQuerry for data validation sent to your web server and PHP for server-side data access.
Choose the right fields for the situation: text boxes, radio buttons, file uploads, Google maps and many more tools are ready to be used to turn your idea into a highly versatile web form.
Web forms are an extension of your style
Personalize every inch with the advanced options at your disposal. Get creative by choosing from over 800 text fonts, add color to any part you want and choose your preferred layout. Or just have the web form copy your website's style by adding your client side code - it's all up to you.
Creating mobile-responsive online forms through the simple and intuitive drag and drop form editor is easy. Pick the fields you need from a list, add it to your online form and have it live without the need of web developers or designers.
Need a way to collect money online?
Turn a user's interaction more pleasant by giving your web form the ability to adapt based on user input and make the experience much more personal by showing only relevant questions based on his actions. Send automatic messages and show custom thank you pages based on user's responses to serve highly relevant content pages for them.
Need a way to collect money online? Web forms can turn into order forms in no time by adding one of the +15 payment processors like PayPal, Stripe and Square to let your clients pay directly through the form.
Dive into advanced settings for more powerful features that turn the web form into a true workflow powerhouse.
We've got you covered!
Receive files

Collecting files through email is a thing of the past. Let your users upload files directly through your web forms by adding file upload fields. Store them in your account for safekeeping and easy access.

Bring the data home

Have your web form do the heavy lifting by integrating with other web applications such as Salesforce, MailChimp and Constant Contact. Setting up the application logic takes less than 5 minutes, but saves significantly more by cutting out manual data transfer. You can even send information from multiple data sources of your online forms to your own SQL server control to use it further.

It's all secure

Individuals and businesses everywhere trust us with their data. Advanced security settings such as SSL encryption, spam protection, password protection country & IP limitation and custom field validation ensure that your web form's data won't be accessed by anyone except you.
Ready to use templates
Select the type of order form you need for your business below or browse through our complete web form templates collection.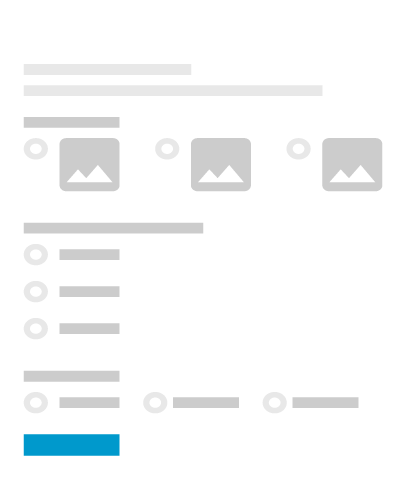 Start building your web form.
Creating HTML forms from scratch is just not worth it when you can design any type of web form through a simple and intuitive user interface and have it live for your visitors to fill out within minutes!